Columna Bicilíndrica Mixto BCL 15 de Alumbrado Público
Mât Bi-Cylindrique Mixto BCL 15
Stepped Column Mixto BCL 15
Columna de sección bicilíndrica con alturas entre 4 y 10m. Fuste base de 1,5m de altura. Con cincho de refuerzo en la base. Fabricados en acero al carbono, calidad S-235-JR. Galvanizado por inmersión en caliente según la norma EN ISO 1461.
Ofrecemos soluciones adaptadas a las necesidades de nuestros clientes:
Pintura líquida o termolacada en el RAL deseado.

Portezuela con ventilación

Soportes adosados

Cierre anti vandálico
Mât bi-cylindrique entre 4 et 10m de haut. Hauteur de la base : 1,5m. Avec renfort à la base. Fabriqués en acier au carbone, qualité S-235-JR. Galvanisé à chaud selon norme EN ISO 1461.
Nous offrons des solutions adaptées aux besoins de nos clients :
Peinture liquide ou thermolaquage dans le RAL demandé.

Porte ventilée.

Supports attachés.

Fermeture anti vol.
Cylindrical section column with heights between 4 and 10m. Base shaft 1,5m high. With reinforcement iron hoop at the base. Made of carbon steel, quality S-235-JR. Hot-dip galvanised in accordance with EN ISO 1461.
We offer solutions adapted to the needs of our customers:
Liquid or powder coating

Door with ventilation

Attached supports

Anti-vandalism lock
Ensamblaje Columna Bicilíndrica Mixto BCL-15
Esquema Columna Bicilíndrica Mixto BCL-15
Placa Columna Bicilíndrica Mixto BCL-15
Puerta Columna Bicilíndrica Mixto BCL-15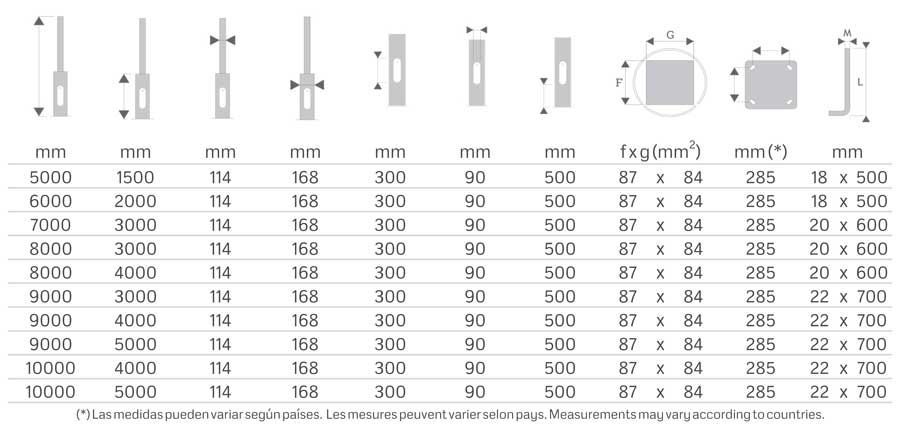 Diseño y Fabricación de Columnas Bicilíndricas de Alumbrado Público Exterior